Dining Near Rocky River Inn
Discover the fantastic restaurants of New Milford, CT when you stay at Rocky River Inn hotel.New Milford offers a variety of restaurants ranging from casual pizza joints to Italian cuisine, family friendly dining and quaint cafes with bistro-style seating.Ask our knowledgeable hotel staff for restaurant recommendations or try some of these time-honored favorites.
The River Bistro.
The River Bistro restaurant is the perfect combination of fine dining and casual tavern ambiance. Enjoy an extensive international wine selection, a tapas menu, and a complete menu of steak, seafood, and Mediterranean specialties such as paella. A tavern menu is also available. The River Bistro features live entertainment on weekends. Wednesday - Saturday: from 5pm. Sunday: 1pm to 8pm. Address: 300 Kent Road, New Milford. Phone: 860-355-4466.
The Cookhouse.
Specializing in country comfort food, The Cookhouse has been whetting appetites with drippy, gooey goodness for years.The menu is stuffed with delicious choices ranging from award-winning slo-smoked barbecue to cookhouse chili, old fashioned macaroni and cheese, pulled pork sandwiches, and juicy burgers. Sunday - Wednesday: 11:30am to 9:00pm. Thursday: 11:30am to 10:00pm. Friday & Saturday: 11:30am to 11:00pm. Address: 31 Danbury Road, New Milford. Phone: 860-355-4111, Website: www.thecookhouse.com.
59 Bank.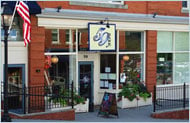 59 Bank offers delicious Italian American dining in a lively atmosphere. Restaurant specialties include grilled flatbread pizza and homemade pasta. The 59 Bank menu also features oversize burgers and sandwiches and entrees such as Atlantic salmon and pork chops. Brunch is served on weekends. The restaurant hosts live entertainment on Friday and Saturday nights, and karaoke on Thursdays. Monday -Thursday: 11:30am to 1:00am. Friday: 11:30am to 2:00am. Saturday: 10:30am to 2:00am. Sunday: 11:00am to 1:00am. Address: 59 Bank Street, New Milford. Phone: 860-350-5995, Website: www.59bank.com.
Holiday Restaurant.
Holiday Restaurant is a local favorite for pizza and casual Italian meals. Create your own pizza or choose from the menu of popular combinations. Traditional pasta dishes with mouth watering sauces and chicken and meat dishes also top the Holiday menu. Open daily: 11:00am to 10:00pm. Address: 17 Veterans Plz, New Milford. Phone: 860-354-9393.
Other New Milford Restaurants.
We also recommend these delicious New Milford area restaurants located near Rocky River Inn
Brickhouse
Italia Mia
Three Brothers Dinner
American Pie - Sherman, CT
SJ Barringtons
The Sports Page
Joeys Sea Food
Yokohama Japanese Restaurant
Panda Empire
The Great Wall
Main Moon Chinese Restaurant

Tivoli Restaurant
McNallys Steak & Ale House
Windmill Diner
Down the Hatch Restaurant
Arrivederci Trattoria - Sherman, CT
Doc's Trattoria & Brick Oven - Kent, CT
Villager Restaurant & Catering - Kent, CT
White Horse Country Pub & Restaurant -
New Preston, CT
GW Tavern - Washington Depot, CT
Oliva - New Preston, CT