Candlewood Lake CT Hotels
The New Milford area of Connecticut is perfectly situated in the heart of some of the top attractions in Connecticut.
The Appalachian Trail, Candlewood Lake and TheaterWorks New Milford are consistently noted among the top attractions for guests stayingat River Rock Inn.
Hotels near Connecticut Attractions.
Ideally situated along the Housatonic River in New Milford, Rocky River Inn offers exceptional access to the best attractions in Connecticut. Whether you're visiting New Milford to hike portions of the Appalachia Trail, go fishing or boating at Candlewood Lake, or enjoy lively performances at TheatreWorks New Milford, Rocky River Inn puts you within minutes of your desired pursuits. Find hotel packages to complement your activities of choice for an exciting getaway in Connecticut.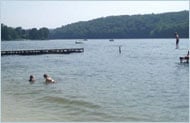 Appalachian Trail History & Facts
The Appalachian Trail was completed in 1937 and is the longest marked footpath in the United States. The Trail is privately managed through the National Parks system. Extending from Maine to Georgia, the Appalachian Trail passes through eight national parks and dozens of state parks. An estimated 10,000 people have hiked the trail in its entirety. The highest point of the Appalachian Trail is in Tennessee atop Clingmans Dome
at 6,625 feet.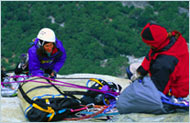 Appalachian Trail - Connecticut Section.
Known officially as the Appalachian National Scenic Trail, this 2175-mile long trail winds its way through 14 eastern states, including the New Milford area of Connecticut. The Housatonic River Valley is home to an extensive section of the Appalachian Trail that offers hiking for all ability levels. The best time to hike the Connecticut portions of the Trail are from May to October. Elevations gains range from 260 feet to 2,316 feet. The Connecticut Chapter of the Appalachian Trail Club leads a variety of organized trail hikes and offers extensive information on various Appalachian Trail hikes.
Candlewood Lake.
The outdoor recreation epicenter of northwest Connecticut since the 1920s, Candlewood Lake offers endless lakeside activities for everyone. Candlewood Lake also holds the title of being the first pumped-storage hydroelectric facility constructed in the United States. In addition to its resource designation, Candlewood Lake is the largest man-made lake in Connecticut. Visitors to Candlewood Lake enjoy an extensive variety of fun activities including boating, year-round fishing, wakeboarding, waterskiing, and Scuba diving. A variety of marinas dotting the lake offer boat and equipment rentals, refreshments and fuel pumps. Five towns, including New Milford, surround Candlewood Lake.
TheatreWorks New Milford.
Enjoy a night of off-Broadway theatre at TheatreWorks New Milford. An award-winning, community theatre group, TheatreWorks New Milford has been entertaining locals and visitors since 1973 in a historic church building that was constructed in 1901. TheatreWorks New Milford productions include such nationally-recognized titles as Sweeney Todd, The Man Who Came to Dinner, The 25th Annual Putnam County Spelling Bee, Chicago and The Laramie Project. Living up to its mission of providing quality theatre to the community, TheatreWorks New Milford offers specially-priced performances for Senior Night and Pay What You Want night.