New Milford, Connecticut Hotel - Rocky River Inn
Nestled along the rippling Housatonic River in New Milford, Connecticut, Rocky River Inn exudes boutique charm with modern flair. Our quaint hotel, which features newly renovated accommodations and two new wings, is surrounded by 10 verdant acres for a peaceful weekend getaway or an extended stay. At Rocky River Inn, you'll enjoy plush comforts, modern amenities and exceptional value.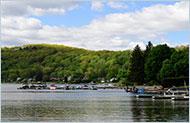 Located on Route 7, Rocky River Inn is conveniently situated in the heart of Litchfield County near such Connecticut communities as Danbury and Kent. Downtown New Milford is just a mile from our door, offering great access to restaurants, shopping and attractions. Also nearby are prestigious Connecticut boarding schools, Candlewood Lake, the Appalachian Trail, historic churches, banquet facilities and the famous Elephant's Trunk Country Flea Market.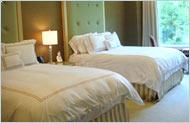 Rocky River Inn offers a tremendous variety of hotel lodging ranging from standard hotel rooms to our decadent spa suite . Each of our newly renovated accommodations features signature pillow top bedding, complimentary high speed Internet access, and a microwave and refrigerator.