Things to Do
Discover a variety of fun attractions and things to do in the New Milford, Connecticut area. Rocky River Inn boutique hotel, located near Kent, is minutes from such popular attractions as Candlewood Lake, the Appalachian Trail, Elephant's Trunk Country Flea Market and the Silo Farm.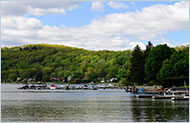 Candlewood Lake.

Candlewood Lake has been the lakeside recreation hub in Connecticut since the 1920s. It is the largest lake in the state and one of the biggest man-made lakes in the country. Candlewood Lake offers nearly 90 miles of shoreline that run through five quaint towns, including New Milford. Candlewood Lake is a favorite destination for waterskiing, wakeboarding, boating, and year-round fishing. Scuba divers will find an exceptional experience at Candlewood Lake. Remains of historic towns that dotted the area prior to the lake's construction can be explored, including old roads and covered bridges. Echo Bay Marina, Gerard's Waters Edge Marina and Candlewood East Marina are full-service facilities located at various points around the Candlewood Lake.

Visit

www.Candlewoodlake.org.
Appalachian Trail.

Connecticut is one of the 14 states that the Appalachian National Scenic Trail passes through. The 2,175-mile walking trail extends from Maine to Georgia, and is easily accessible from Route 7 in New Milford, Connecticut. Enjoy a casual afternoon stroll or plan day-long hikes. Dozens of Appalachian Trail hikes are within minutes of New Milford.

Visit

http://www.nps.gov/appa/index.html
TheathreWorks New Milford.

TheatreWorks New Milford offers an impressive lineup of quality off-Broadway productions in a welcoming environment. This community playhouse has staged such productions as Sweeney Todd, Kiss Me Kate, Doubt: A Parable, and The 25th Annual Putnam County Spelling Bee.

Visit

http://theatreworks.us/index.php.
Elephant's Trunk Country Flea Market.

The Elephant's Trunk Country Flea Market has been a New Milford tradition since 1976. Shop for antiques, household items, gardening accessories and plants, and much more. Nearly 60% of the merchandise at Elephant's Trunk is antiques or collectibles. The flea market is open every Sunday, weather permitting, from April 4 to November 28.

Visit

http://www.etflea.com/.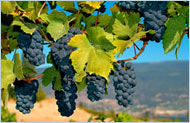 Hopkins Vineyard.

Hopkins Vineyard, located on the north shore of Lake Waramaug, is a family-owned winery that has been producing award-winning wines for over 30 years. A tasting room offers samples of Hopkins Vineyard varietals, or visitors can relax with a full glass or bottle of wine in the Hayloft Wine Bar. Hopkins Vineyard offers winery tours by reservation.

Visit

www.hopkinsvineyard.com.
Pratt Nature Center.

The Pratt Nature Center in New Milford offers interesting things to do with attention to the natural landscape of Connecticut. The wildlife preserve spans 193 acres and encompasses diverse ecosystems including mountains, meadows, wooded terrain and wetlands. Gardens, farm animals, a pond and stream punctuate the preserve with fun activities. The Pratt Nature Center also offers hiking, bird watching, educational programs and community garden plots.

Visit

http://www.prattcenter.org/
Club at River Oaks.

The Club at River Oaks offers premium golf in an exclusive residential community. The stunning golf course meanders through a stately landscape marked by dense forest-like stands and views of verdant rolling hills. The Club at River Oaks offers golf memberships, a 26,000-square-foot clubhouse, bar and grill, pro shop, and a meticulous practice facility.

Visit

www.clubriveroaks.com.
Lime Rock Park.

One of the most unique race tracks in the country since 1957, Lime Rock Park continues to lure speedway's most ardent fans.In addition to an exciting race schedule, Lime Rock Park is known, too, for its interesting seating arrangements. There are no grandstands here, just a natural amphitheater surrounded by green Connecticut hillsides.Fans bring their own chairs and blankets and enjoy race day excitement on the lawn. Race events at Lime Rock Park range from NASCAR, the Grand-Am Rolex Series, American Le Mans Northeast Grand Prix, and regional race series.

Visit

www.limerock.com.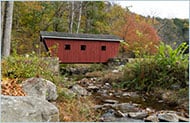 Bull's Bridge.

Bull's Bridge is one of the most popular hikes in the New Milford area. Located in Kent, the main attraction of the hike is the actual Bull's Bridge, a delightful and historic covered bridge. The scenic walk includes beautiful waterfall and river views, and overlaps parts of the Appalachian Trail. Easy, moderate and strenuous versions of the hike are available.

Visit

http://www.berkshirehiking.com/hikes/bulls_bridge.html
More Things to Do in Connecticut.
Litchfield County offers so many interesting attractions and things to do. Review our New Milford for a complete list of other attractions and things to do on your vacation to New Milford.
Fly Fishing

-

www.dryflies.com

Lovers Leap

- New Milford

Kent Falls

- Kent CT

Club Get Away

- Kent CT

Bulls Bridge Gold Club

- South Kent CT

Candlewood Valley Golf

- New Milford

CTMacedonia State Park

- CT

Mohawk Ski Mountain

Candlewood Lake Club

Lake Waramaug Country Golf Club